Nothing's too good to be true…
I didn't always know that.
My first conscious thought each morning, is how on earth did I get this life? Part of me always believed struggle was the unfortunate currency between me and the life I had dreamed of. I'm not talking about hard work and commitment…we've mastered our own version of that. I'm talking about getting intensely knocked- around-in-the-river-of-life kind of struggle. The "you can't always get what you want" struggle. I bought into that philosophy early on, but after a few decades of getting what I expected, I've learned a new perspective.After these recent years of growing a family business, living our wacky compound lifestyle (yes we all live together) and working hard to build ToGoSpa - I have a different perspective. I've learned how to just get in the river, put my feet out in front, and kick off rocks as they appear. There will always be rocks, but the ride is so worth it, and there is immense pleasure in riding the river between the rocks.
Nothing's too good to be true.
Our life isn't perfect by any stretch. In fact, sometimes I feel like we've lost our minds by even attempting this multi-generational, stray dog inclusive, circus of a life, and there are days we could rival the most absurd reality television. It doesn't exactly match my original fantasy (which by the way was on a tropical island with a boat, all my peeps living together, bottomless margaritas, and a fulltime massage therapist)—but it's darn close.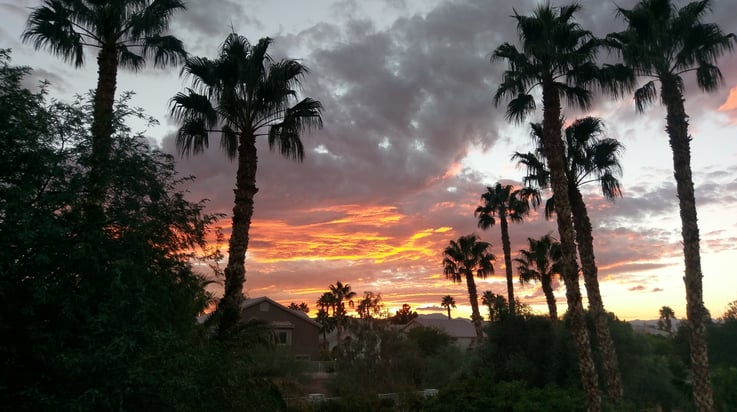 There's no beach here in Las Vegas, and margaritas usually inflict more pain than it seems worth anymore – But, if you want to know the truth, my real life is even a bit dreamier than the one I had planned.
We have our big ol' zany family that genuinely loves and cares for one another. We've somehow created our own synchronicity and rhythm where the dishes are done, dinners are made, and granddaughters are picked up from school and taken to practices. We have weekly meetings at the round table… actually, we have daily meetings around the clock, and we all share in running this amazing business that we continue to grow and nourish AND truly love. Most of all, I'm surrounded by the people that mean more to me than anything, and it just doesn't get any better than that.
I haven't given up on the idea of island compound living, and it could still happen. But for right here, right now, I'm in just about the most beautiful season of my life.
Nothing is too good to be true.
Writing a blog for the family business is probably going to be the most challenging thing I do. To open ourselves to you, is to be vulnerable, and that's scary. Over the years I've come to know so many of our valued customers, and your loyalty to us is a topic that comes up almost daily. I can't begin to express how grateful we are to you, for aiding and abetting us on this journey. Without you – we are not.
She Who Tweets will be demanding more blogs from us, and we welcome questions/suggestions about any topics you'd like to know about. One week I might just post a video of one of our meetings. You never know what you're going to get – but it's never dull. :)
XOXO,
Jana