Which Formula Is Right For Me?
Long ago, (like 8 years, when we were still Eyedews) we developed our original formula Ice Water because we wanted something, Clean, Cool and Refreshing, and that would be Perfect for Anyone With a Face. After a few years and a hundred thousand samples teaching people about the joys of an under eye mask, we decided it was time to target areas of concern, like Dark Circles, Crows Feet and Sagging Under Eye Bags. And so Green Tea, Pomegranate and Coconut were born! Each of these formulas were created using the base of Ice Water, with a few added ingredients to target a specific condition.
They are all effective, and you should use the one you're most drawn to... however, below are some tips to find the one most effective for your "eye thing"
Before we start let just get a few things straight, ALL ToGoSpa collagen products contain Aloe Vera, Marine Plant Collagen, Vitamins C & E and Hyaluronic Acid. They do NOT contain any Parabens or Dyes.
You absorb whatever you put on your skin - so what's in it is equally as important as what's NOT in it! Always... always check ingredients, as all under eye masks are not created equal!
Here's some tips to help you decide - but remember, there is no wrong choice!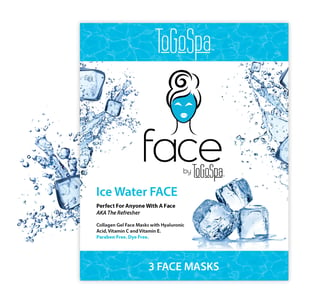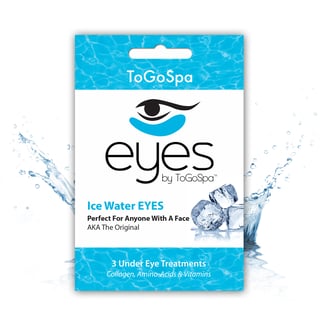 Ice Water- Perfect For Anyone With A Face! Cool soothing relief for weary eyes. Super hydrating, this formula is especially good for dry, tired, puffy eyes, headaches, allergies, hangovers, fatigue and bad attitudes. Available in EYES and FACE.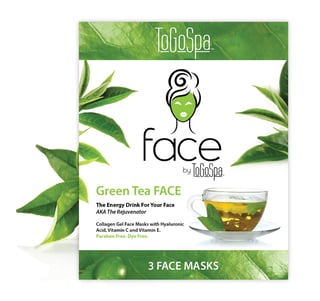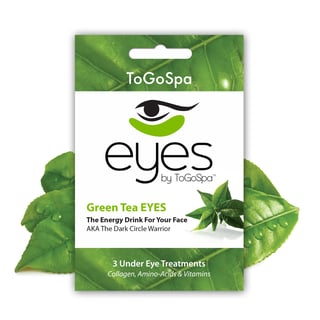 Green Tea - The Dark Circle Warrior With added Taurine and Green Tea Extract to help promote circulation, which is what your dark circles long for. Green Tea can have an extra tingly stimulation, and is Perfect When You & Your Face Need a Lift! Available in EYES and FACE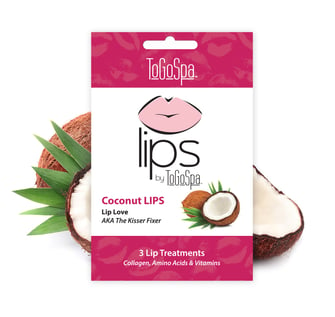 Coconut - The Tropical Staycation and most photogenic in #ToGoSpaSelfies! We added Allantoin and Coconut Extract for plumped up moisturizing that makes this formula super hydrating for dry parched eyes or lips. With the intoxicating Coconut aroma they're the perfect stay-cation When You & Your Face Want To Get Away From It All. Available in EYES and LIPS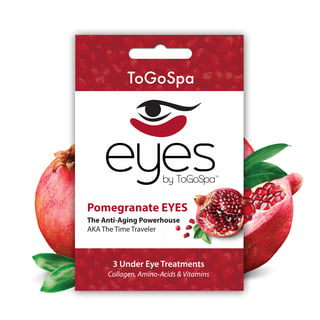 Pomegranate - The Time Traveler! We added Resveratrol and Pomegranate Extract to make the Pomegrante formula our anti-aging powerhouse. Extra anti-oxidents are for wrinkles, crows feet and sagging under eye bags. When You & Your Face Want to Turn Back the Clock! Available in EYES
White Tea - The Wattle Wonder! White Tea and Allantoin provide exceptional moisture and promote elasticity for the decolletage area, or any other area for that matter. Perfect When You Need It, Wherever You Need It! Available in NECK
Try them all, and decide which are your favorites!
Already have a favorite?
Tell us in the comments below!